∞
The Belt of Truth and Problem of Identity
I've been thinking about the intersection of truthfulness and identity this week. Partly because I'm preparing a Sunday School lesson for tomorrow which includes the Belt of Truth from Ephesians 6, and partly because on Wednesday I got to hear my buddy John Besson give a sneak peak of his and his wife's forthcoming book, Trading Faces. It's all about the identities we cling to and live by.
Ideas about truth and identity aligned for me when I found this thought-provoking article by Steve Rathje: Why People Ignore Facts: When it comes to reasoning, identity trumps truth. Rathje argues that our need for "identity-consistent beliefs" is often more important to us than "accurate beliefs."
This is an insightful and important point, and Rathje backs it up with proof. For example, he tells how people are even willing to lose money just to avoid reading articles that challenge their beliefs. In one experiment, folks had to choose between reading opinions they agreed with for a chance to win $7 or reading some opposing opinions for a shot at $10. Nearly two-thirds chose to lose the extra money. And it didn't matter which political party they belonged to, people "were equally likely to avoid information they disagree with."
So how do overcome this and get yourself and others to be more open to the truth, even when it might conflict with a core-identity? That answer, according to NYU professor Jay Van Bavel, who is quoted in the article, is that we need to make truth seeking a core part of our identity. In other words, if you want to be a truth-seeker, believer, and practitioner, you've got to embrace truthfulness as a part of who you are.
This is where the armor of God comes into play. What Van Bavel suggests is exactly what God does for us in Ephesians 6 when he tells us to put on the whole armor of God, the first piece of which is the belt of truth.
"Finally, be strong in the Lord and in the strength of his might. Put on the whole armor of God, that you may be able to stand against the schemes of the devil…. Stand therefore, having fastened on the belt of truth." (ESV)
A more literal translation is something like wrapping your waist/girding your loins with the truth, like a solider getting ready for battle. This is illustrated in this great infographic from The Art of Manliness. The soldier takes the extra material from his tunic, wraps it around his core, and thus increases his mobility, strength, and protection.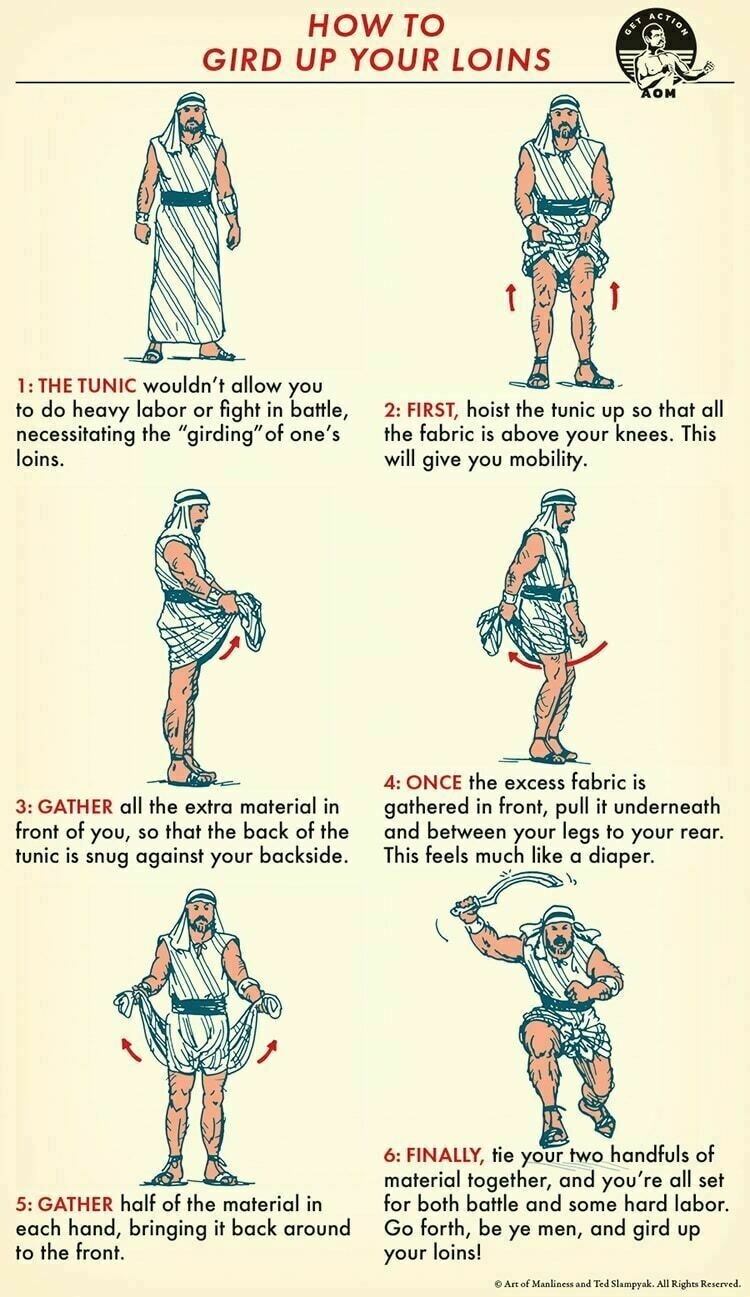 When we wrap our core with the truth, we increase the mobility, strength, and protection of our hearts—mentally, emotionally, relationally. But there's a problem sneaking in the background. If your core identities are built on lies, adding truthfulness to them will be an ineffective way to build them up because truth tends to take them down. It exposes them for what they are.
Consider how many core-identities consistently over-promise. They tell us we can find our deepest meaning and satisfaction in life by being a mom, a student, a good employee, or whatever else. And so we act accordingly. We pour everything we have into these things. But these weak identities are like a rusty buckets. They sort of hold water but because they are cracked, weakening, and full of holes, every time you pour in your energy into them, what happens? All that effort keeps leaking out. Your kids act out and get hurt. The exam you studied for wasn't even important. The team you are on at work made you look bad.
The problem with inviting truthfulness to a leaky bucket identity situation is that it will expose ourselves as more vulnerable that we pretend to be. And without an better alternative, our only option is fear and despair. That's why the more common response is denial: ignore the problem and try to keep the bucket full by working harder and faster. This may work for a while, but eventually the bucket totally breaks or you do (burnout, panic attacks, etc.)
Weak core identities require willful ignorance and self-deception, lest the truth expose them for what they are and then they fall apart. That makes the suggestion of adding truthfulness to your core identity a false hope.
Thus says the LORD: "Cursed is the man who trusts in man and makes flesh his strength, whose heart turns away from the Lord" (Jeremiah 17:5).
So what's the solution? It's a fundamental change of core-identities, with God at the center. God accomplishes this by reconciling our relationship with him in Christ—the one who is the Way, the Truth, and the Life (John 14:6)—so that instead of fighting him and trusting ourselves, he becomes our chief end and ultimate happiness, and as such, we can then draw from his infinitude of blessings and strength. Forever.
You make known to me the path of life; in your presence there is fullness of joy; at your right hand are pleasures forevermore. (Psalm 16:11)
The truth is that without Christ, we resort to self-protective ignorance and deception. But when abiding in God becomes our ultimate purpose and deepest happiness, we naturally become truth-seekers instead of truth-deniers.
That's why Paul can say:
"Finally, be strong in the Lord and in the strength of his might. Put on the whole armor of God, that you may be able to stand against the schemes of the devil…. Stand therefore, having fastened on the belt of truth." (Ephesians 6:10-11, 14)
When we put on the armor of God and stand in the strength of his might, the truth is not an accessory, we wrap around our rusty-bucket identities. Instead the truth becomes a natural and essential part of how we live in Christ.
For with you is the fountain of life; in your light we see light. (Psalm 36:9)